AOCS Annual Meeting Registration Now Open!
We've got our
new online registration
up and running! AOCS meetings staff and web team have been working hard with our new Association Management Software to create a streamlined registration process for you, and it's now ready to use.
More than 1,500 professionals attend our
Annual Meetin
g to experience the best educational program in the industry. You don't want to miss this opportunity to join them in numerous
networking activities
, 600 diverse
presentation
s, and an
expo
featuring over 80 international companies—all providing you with resources and knowledge you need to succeed.
Register
by February 28 to save up to $227.
Make your hotel reservation today
—several events are taking place in San Antonio in May and hotels are filling up fast!
AOCS Seeks Candidates for Leadership Positions
Interested in pursuing a leadership position with AOCS? Take a moment to fill out our newly designed
Prospective Leadership Questionnaire
, and let us know more about the skills and experience you can offer the Society.
Serving in leadership positions with AOCS is your opportunity to be instrumental in the future direction of the Society.
Leadership positions include service on the
AOCS Governing Board
,
AOCS Value Centers
, the
AOCS Foundation Board
, and key committees.
Know an ideal candidate? Feel free to forward them the link to the Questionnaire:
http://secure.aocs.org/boardq/index.cfm
For more information, contact
Ben Harrison.
Inform Free Features
Alternative pathways are yielding biobased chemicals that can do things petroleum can't. For example, algal oil has a significantly higher flashpoint than petroleum-based oil. Seven prominent companies provide detailed information about their synthetic pathways and how their products compare to their petrochemical cousins in the
first free article from the February edition of Inform.
The article includes a table of 17 additional companies, their technologies, products, feedstocks, and website addresses.
Newcomer Agaia International Inc.'s Evolve® technology—a liquid composition containing alkyl polyglycoside surfactants and no petrochemicals—is already a hit in industrial and institutional cleaning because of its performance and low price. Now Walmart has introduced a suite of four green cleaners manufactured by Agaia. Their low price point may signal a big change within the green home care arena.
Read more in our second free article.
AOCS Announces Award Winners
AOCS is pleased to announce the recipients of the following awards, all of which will be presented at the
105th AOCS Annual Meeting & Expo
:
Student Awards
Ralph Potts Memorial Fellowship:
Michael Floros, Trent University, Canada
Edible Applications Technology:
Bicheng Wu, University of Massachusetts Amherst, USA
Health and Nutrition Division:
Shiou Wah Gouk, University of Malaya, Malaysia
Industrial Oil Products Division:
Latchmi Raghunanan, Trent University, Canada
Hans Kaunitz (USA Section):
Chodchanok Attaphong, The University of Oklahoma, USA
Foundation Honored Students
Taiwo Akanbi, Deakin University, Australia
Mia Falkeborg, Aarhus University, Denmark
Shiou Wah (Darren) Gouk, University of Malaya, Malaysia
Ketinum Kittipongpittaya, University of Massachusetts Amherst, USA
Ying Yang, University of Massachusetts Amherst, USA
Xiaowei Zhang, Shanghai Jiao Tong University, China
Congratulations to all the honorees! Look for more award announcements in future newsletters, and
learn more about the AOCS Recognition Program on our website
.
ABO releases Industrial Algae Measurements 6.0
AOCS members Steve Howell, MARC-IV, Lieve Laurens, National Renewable Energy Laboratory, and Gina Clapper, AOCS are part of the ABO Technical Standards Committee and are contributing authors to the
Industrial Algae Measurements 6.0 guidance document
, which recommends minimum descriptive parameters and measurement methodologies required to fully characterize the economic and environmental inputs and outputs of an aquatic biomass operation.
The Industrial Algae Measurements 6.0 recommendations contained within this document are intended to be useful in characterizing a broad range of aquatic production operations.
Looking for a Job?
AOCS Career Services
regularly posts some of the best career opportunities in the industry. Take a look below at some current listings, or get more information on the Career Center website.
Learn more about all of our upcoming meetings.
→
AOCS Meeting Updates

105th AOCS Annual Meeting & Expo | May 4–7, 2014 | San Antonio, Texas, USA

Make your hotel reservation today—due to several events taking place in San Antonio this May, hotels are reaching capacity quickly.

Kick off the annual meeting with a short course!
---

World Conference on Fabric and Home Care—Montreux 2014 | October 6–9, 2014 | Montreux, Switzerland
Six leading industry CEOs and numerous senior executives will discuss Creating Value in the New Reality, sharing their expertise and visions of the future. Attendees will gain new perspectives and solutions to challenging issues from companies such as BASF, Coca-Cola, DuPont, Facebook, Henkel, Kao, Lion, Novozymes, Oxiteno, P&G, SC Johnson, Unilever, Walmart, and more. Find the full list of presentations on the Montreux website. New in 2014 will be the Technology Showcase, featuring 50 video presentations of the latest research from innovative leaders worldwide; and the Industry Innovations Incubator, showcasing start-up companies with cutting-edge ideas and products.
→
Upcoming Industry Meetings

Cleaning Products Europe 2014 | March 25–27, 2014 | Europe
This conference will bring together every level of the value chain, with an agenda focused on providing a 360 degree view on those changes set to impact or disrupt the industry. Presentations will highlight the developments and changes needed to drive the industry towards the end goal of achieving a profitable yet sustainable industry, while minimising the negative impact on society and the environment. Speakers will include P&G, Unilever, DuPont, Huntsman, Elevance and more, plus representatives from associations UKCPI and AISE.
---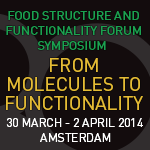 Food Structure and Functionality Forum Symposium: from Molecules to Functionality | March 30–April 2, 2014 | Amsterdam
The Food Structure and Functionality Forum (FSFF) is delighted to announce this conference which will highlight the latest research efforts in food structuring and de-structuring. The FSFF is primarily focused on the structuring of food tailored towards end-user functionality (e.g., improved texture, taste perception, health, shelf stability). The conference will bring together experts in food engineering, food science, food technology, and nutrition. This is a significant opportunity for you to join leaders from industry and academia to ensure you keep abreast of recent developments in this fast developing field and for you to network with your international colleagues.
---

The Grocery Manufacturers Association is excited to release a second round of sessions for the 2014 GMA Science Forum. Over three days, 80 plus speakers will address the major food, product safety and health issues impacting consumers, business and public policy both domestically and internationally. This is your chance to get the latest intelligence on topics such as FSMA, health and well-being, GRAS, economic adulteration, toxicology, processing technologies and microbiology - all in one place. Complete your registration at www.GMAScienceForum.com.
---

ILPS Lecithin Short Course 2014 | June 12–13, 2014 | Belgium
World class experts will present papers on various lecithin sources, production and applications in the University Conference Building. Demonstrations of lecithin emulsion characterization and applications will be organized in the University laboratories.
---
---
If you would like to receive the AOCS Newsletter and read it in full you may opt-in here.