AOCS Key Initiatives set for 2014
As of 2013, the AOCS Governing Board adopted a new long-term strategic objective for the Society that states, "In order to ensure long-term sustainability, AOCS will realize an annual growth rate of approximately 7%." Each year, AOCS staff and Governing Board identify a series of key initiatives to support that objective.
"Collectively, these initiatives drive much of the annual work for AOCS staff," said Pat Donnelly, AOCS CEO. "The initiatives are organized in a simple, easy-to-follow format," he added. Each month, AOCS staff track activity against these key initiatives and report progress to the Governing Board. "This tool has proven to be extremely useful in managing priorities," said Donnelly. "People are often surprised at the breadth and diversity of initiatives we take on in a given year," he noted.
Our new Association Management System (AMS) has launched!
You should notice a more streamlined online Store experience and an upgraded member profile page.
With the switchover, the
login
process has changed slightly. Please refer to the following to log into your member account:
"Username" (Enter your email address on file)
"Password" (Enter your AOCS member number)
You will then be able to change your password from your profile page.
If you do have trouble accessing your AOCS member or store account, please contact Doreen Berning at +1 217-693-4813 or
doreenb@aocs.org
.
And don't forget to
renew your Membership for 2014
so you don't miss another issue of
Inform
!
Inform Free Features
The
first free article from the January issue of Inform
is part of a three-article special report on specialty lipids in pet food. Discover how conjugated linoleic acids, long-chain omega-3 fatty acids, and medium-chain triglycerides can provide some of the same health benefits to pets as to humans.
The European Food Safety Authority released a preliminary report in September 2013 suggesting that some European populations were at risk of overexposure to 3-MCPD and 3-MCPD-esters in foods. Esters of 3-monochloropropane-1,2-diol are process contaminants formed during the refining of vegetable oils.
In the second free article
, learn how different organizations responded to the report. AOCS submitted an official response, which included mention of four new validated AOCS methods for the characterization of MCPD-esters, 3-MCPD-esters, and glycidyl esters in vegetable oils.
Deadlines Approaching
The Smouse Fellowship
application materials are due February 1, 2014. It includes a $15,000 scholarship and is awarded to a graduate student doing research in areas of interest to AOCS.
Visit the website for more information on nomination requirements and how to apply.
Two Divisions and one Section of AOCS are offering travel grants for the 105th AOCS Annual Meeting & Expo.
Find detailed information and eligibility requirements online:
AOCS Divisions Call for Candidates
All members of AOCS Divisions should have received a "Call for Candidates" email seeking nominations for Division Chair, Vice-Chair, and Secretary-Treasurer positions. The term of office is one year; however, a member may serve in an office for three consecutive terms. Self-nominations are welcome. The ballots – with candidates' names and statements – will be emailed to Division members in mid-February. The deadline to nominate is January 27, so act soon! Questions? Contact
Elizabeth Garard
.
Browse Through Some of the Most-Downloaded JAOCS Articles
Download these sample articles for free:
Chemical Stability of the Lipid Phase in Concentrated Beverage Emulsions Colored with Natural β-Carotene Szterk, Arkadiusz; Roszko, Marek; Górnicka, Ewa
Characteristics of tea seed oil in comparison with sunflower and olive oils and its effect as a natural antioxidant Sahari, Mohammad Ali; Ataii, Davood; Hamedi, Manuchehr
Modification of Vegetable oils. IV. Reesterification of fatty acids with glycerol Feuge, R. O.; Kraemer, E. A.; Bailey, A. E.
Functional properties of soy proteins Kinsella, John E.
EPR Investigations of Spin-Probe Dynamics in Aqueous Dispersions of a Nonionic Amphiphilic Compound Nakagawa, Kouichi
Do your TFA measurements align with FDA's?
GUARANTEE your lab is properly identifying peaks with the AOCS
trans
fat analysis testing sample kit and webinar tutorial. This kit includes two samples for testing AOCS Official Method Ce 1h-05.
The webinar will help participants identify and avoid commonly made mistakes in order to help their laboratories maintain the highest possible standards of accuracy and reliability.
Purchase today
!
Looking for a Job?
AOCS Career Services
regularly posts some of the best career opportunities in the industry. Take a look below at some current listings, or get more information on the Career Center website.
Learn more about all of our upcoming meetings.
→
AOCS Meeting Updates

105th AOCS Annual Meeting & Expo | May 4–7, 2014 | San Antonio, Texas, USA
Annual Meeting Housing is now open!
Make your hotel reservation today—due to several events taking place in San Antonio this May, hotels are reaching capacity quickly.

Watch for registration to open in late January.

Kick off the annual meeting with a short course!
---

World Conference on Fabric and Home Care—Montreux 2014 | October 6–9, 2014 | Montreux, Switzerland
Six leading industry CEOs and numerous senior executives will discuss Creating Value in the New Reality, sharing their expertise and visions of the future. Attendees will gain new perspectives and solutions to challenging issues from companies such as BASF, Coca-Cola, DuPont, Facebook, Henkel, Kao, Lion, Novozymes, Oxiteno, P&G, SC Johnson, Unilever, Walmart, and more. Find the full list of presentations on the Montreux website. New in 2014 will be the Technology Showcase, featuring 50 video presentations of the latest research from innovative leaders worldwide; and the Industry Innovations Incubator, showcasing start-up companies with cutting-edge ideas and products.
→
Upcoming Industry Meetings

Cleaning Products Europe 2014 | March 25–27, 2014 | Europe
This conference will bring together every level of the value chain, with an agenda focused on providing a 360 degree view on those changes set to impact or disrupt the industry. Presentations will highlight the developments and changes needed to drive the industry towards the end goal of achieving a profitable yet sustainable industry, while minimising the negative impact on society and the environment. Speakers will include P&G, Unilever, DuPont, Huntsman, Elevance and more, plus representatives from associations UKCPI and AISE.
---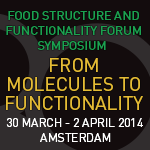 Food Structure and Functionality Forum Symposium: from Molecules to Functionality | March 30–April 2, 2014 | Amsterdam
The Food Structure and Functionality Forum (FSFF) is delighted to announce this conference which will highlight the latest research efforts in food structuring and de-structuring. The FSFF is primarily focused on the structuring of food tailored towards end-user functionality (e.g., improved texture, taste perception, health, shelf stability). The conference will bring together experts in food engineering, food science, food technology, and nutrition. This is a significant opportunity for you to join leaders from industry and academia to ensure you keep abreast of recent developments in this fast developing field and for you to network with your international colleagues.
---
If you would like to receive the AOCS Newsletter and read it in full you may opt-in here.